In honor of Dave Letterman's Retirement, today's post will feature
Top 10 Ways We Save Greens
10. Bringing Coffee and Lunch from Home
This one is pretty self explanatory. Pack In, pack out is not just good for hiking but for going to work as well :)
9. Visiting Flea Markets for Ideas
Sometimes it really stinks to not spend money. When we get in this mood, we go to a flea market to look around and gather ideas. We start to look at pieces and talk about how we could design a DIY project around the concepts we like. One of our favorite flea markets is the
District Flea Market
, but
Eastern Market
is one of the largest in DC.
8. Home Brewing
Nick is a home brewer, and by default I have learned quite a bit and have become a Sous-Home brewer. I will do a thorough cost analysis on Nick's next brew, but for now trust me that after the initial investment in equipment, Home brewing pays for itself :)
7. Zero Tolerance for Compromise
We have saved money by not compromising on our budget. If we don't have the money, we don't spend money. This past week has been challenging! We are both CRAVING a good meal out, but our entertainment budget has been allocated for the month to a race registration. We are learning the art of making firm decisions about our money and also learning the repercussions of these decisions.
6. Planning Ahead
This is more of a long-term money savings technique. We are still getting the hang of planning ahead, but I have to say it feels great understanding that we already have a little set aside for a week off this summer and holiday travels. Saving money little by little will save us from stress in the end :)
5. Free Activities
We are always looking for things to keep us busy and not focused on our lack of spending money. Though DC has many restaurants and bar temptations it also has a lot of
free activities
, museums, a ton of volunteer activities, great hiking trails near by, and free events through the Embassies, universities, and other organizations. I've learned that the key to keeping a free activity free is to bring snacks; otherwise, we ALWAYS end up buying food or drinks! Cherry Blossoms are right around the corner, but here is a photo from last year.
We are also finding things to keep us occupied at home: Potluck dinner with friends, game night, learning Russian-again, writing blog posts, preparing for future adventures, and putting together photo books to be printed at a later date. I think this weekend may be the time to switch out our winter clothes!
4. Coupons
Coupons have become key to our Sunday shopping. We spend time looking through what's on sale as we plan out our week of meals. We have an App on our phone that helps us keep track of what coupons we have while we work our way around the store.
We are also on the look out for coupons for baseball games ($2 Tuesday games), oil changes, and % off coupons for stores we frequent. I have given up on Groupon and Living Social for the time being, unless I know it is something I will use in the next month.
3. Working Out
Working out has plenty of physical and mental benefits, but Nick and I have also noticed an additional benefit- we don't spend money after a long workout. Honestly, it probably has to do with a lack of energy to actually go out :) After a long workout the couch looks really good!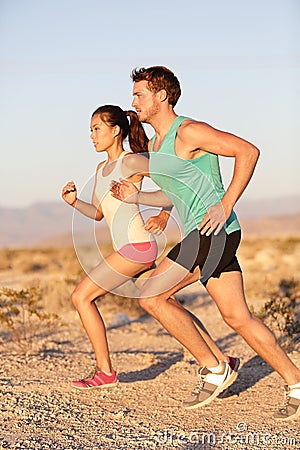 Stock photo of beautiful people running... I'm not sure when they got this pic of Nick and I? Damn we look good :)
2. Planning our Meals
This tends to go hand-in-hand with coupons, but in planning out meals for each night on Sunday we can ensure that we aren't tempted to just grab a pizza on the way home. Each week we plan out 4-5 meals and account for leftovers for at least one maybe two meals. This allows us to be creative and try new recipes, but also prep in advance if we're going to have a busy day at work, or if we're going for a quick run after work. Planning is key to our cost savings :) Lot's of food pics coming your way next Friday on my post,
Two weeks for $41
.
1. One Income Budget
The biggest way we have been able to save money is creating a budget from only ONE income. This has cut how much funding is "available" to us to spend on monthly expenses and forces us to put the full second income towards our student loans. This was one of the best pieces of advice we have followed. I understand that not everyone can do this. We can't pay our minimum balance of our student loans as part of the one-income budget, but we can pay for everything else.
If your even able to put $50 or whatever you can afford from your paycheck into savings or towards a debt payment, it helps. Whatever you can do, look at your budget and try to stick with it :) It is hard and frustrating at times, but I am optimistic that it will be worth having a whole income not going to debt in a few years :)